We can't believe it's already been over a year since we announced the winners of our 2020 PartnerBot grant program. It was extremely exciting to learn about all the research teams and hear how the winners were planning to use their awarded robot platforms. We were therefore very much looking forward to reconnecting with one of our past winners to see what they've been up to in the last year.
One of the winning teams from our PartnerBot program was Saxion University of Applied Sciences (Academic Category), which was awarded a Dingo-D (differential drive). Their project goal with Dingo is to facilitate the integration of mobile robots into automation ecosystems such as Enterprise Research Planning (ERP) and Manufacturing Execution and Control System (MES) through ROS2 and Navigation 2 integration. 
Specifically, Saxion is an institute known for its focus on living technology, a concept in which the synergetic interaction between technology and society is indispensable. Within Saxion, the Research Group of Mechatronics, has worked on technologies including artificial intelligence-enabled autonomous indoor/outdoor navigation of mobile manipulators, optimal path planning, advanced perception and cognition capabilities, and more.
Dingo + ROS2: The Dream Team
But with Dingo, the team wanted to address a big gap that they saw for software using ROS robots in industrial settings. They believe that right now, the ROS community mostly focuses on research using research platforms and less on practical applications. Specifically, the project is to research the possibilities of using ROS 2 in combination with the existing fleet managers to control a fleet of different robots. These robots, controlled by the fleet manager, could then be used in various industrial applications. This would create opportunities for Saxion's partner companies to use open source AGVs that tackle complex tasks in warehouses, factories, and even outdoor environments, all integrated into their existing systems.
However, the main challenge facing the team to get their project started prior to their PartnerBot win was creating an AGV that was industry-ready. As well, they specifically wanted to use ROS 2 instead of ROS 1. They saw the advantage of ROS 2 as being that it's designed with industrial applications in mind. In order to use ROS 2, however, much of the original code had to be rewritten from ROS Melodic to ROS 2 Foxy. Led by the team's research engineer, Joep Tool, it took them several months to update, rewrite, extend, extensively test, and validate the developed code. Now, their Dingo-D successfully runs ROS 2 Foxy.
"We are very happy with our Dingo. It is very easy to work with and has given us no problems so far. As research engineers, we want to come to the office in the morning and have our robots ready to go. Dingo has been a reliable robotic platform that does just that!"

– Abeje Mersha, Professor of Unmanned Robotic Systems (Saxion University of Applied Sciences)
Supporting Future Projects and Academic Study
Furthermore, Dingo-D also allows the team to engage in more complex projects. Previously, for smaller proof-of-concept projects, the team relied on Turtlebot3, which is a research robotic platform with limited practical applications. The main challenge they had with Turtlebot3 was that it had almost no hardware extension possibilities and extra payload capacity, which limited the scope and applicability of their projects. Simply put, with the old way, the team was not able to get past the proof-of-concept stage as the small Turtlebot 3 didn't allow them to fully demonstrate the applicability of their AGV technologies in industrial applications.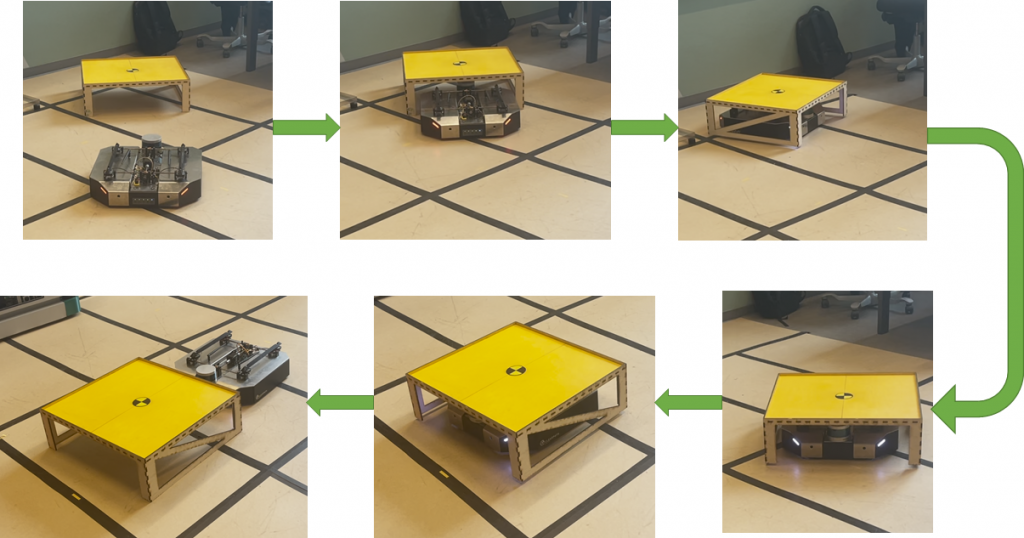 Student Project Logistics
Dingo will be key in enabling robust and reliable robotic middleware, such as ROS 2, that can be easily and modularly integrated with existing solutions. The Saxion team, as research engineers, want to work with the latest innovations in robotics, and they see ROS 2 as an important part of that. Dingo is also being used in projects for the university's students. In the Fall 2021 semester, a student group implemented Nav2 on the Dingo robot, whereas in the Winter 2021 semester, they had a student group mount a lift system on the Dingo and had it drive under and pick up a small table. 
The team believes that the ability to put these robots in the hands of their students allows them to pique their interest in robotics even further. The Dingo was also able to replace a robot in another project that focused on using the earth's magnetic field in SLAM operations. The original robot is not currently operational, so the Dingo was able to step in and keep the project on schedule.
Student Project Navigation
Dingo Is There When You Need It
As for components, the team decided to use the Velodyne Puck as the main sensor. The reason they chose this sensor is twofold. First of all, they wanted to use a sensor for 3D environment mapping. This allows them to further develop some additional experience within the research group. Secondly, through Clearpath's support of Velodyne Puck for use on the Dingo robot, it was easy to use the LiDAR in the shortest amount of time. In the future, the team plans to use thermal cameras and an array of IMUs together with their Dingo platform for research projects.
The Saxion team wanted a small, affordable, modular, and robust platform that they could easily mount different sensors and other payloads onto. For them, Dingo hits right on the mark. It is not only an excellent platform for their current research projects, but its versatility means it can also be used for future research activities. As Professor Abeje Mersha said: "We are very happy with our Dingo. It is very easy to work with and has given us no problems so far. As research engineers, we want to come to the office in the morning and have our robots ready to go. Dingo has been a reliable robotic platform that does just that!"
We are definitely excited to continue following the progress of Saxion's project and Dingo in its new home.
To learn more about Saxion University of Applied Sciences, visit their website here.
To learn more about Dingo, visit our website here.