Husky
Husky is a medium sized robotic development platform. Its large payload capacity and power systems accommodate an extensive variety of payloads, customized to meet research needs. Stereo cameras, LIDAR, GPS, IMUs, manipulators and more can be added to the UGV by our integration experts. The Husky's rugged construction and high-torque drivetrain can take your research where no other robot can go. Husky is fully supported in ROS with community driven Open Source code and examples.
Husky was the first field robotics platform to support ROS from its factory settings. Use Husky to integrate with existing research and build upon the growing knowledge base in the thriving ROS community to get started producing research results faster. Husky uses an open source serial protocol and we offer API support for ROS, and options for C++ and Python.
Husky is an elegantly simple design built out of durable materials with very few moving parts. Its high-performance, maintenance-free drivetrain and large lug-tread tires allow Husky to tackle challenging real-world terrain. It will last for years of productive research.
Husky is trusted by hundreds of researchers and engineers globally. Numerous research papers have been published using Husky as the test set-up. Husky provides a proven benchmark for establishing new robot research and development efforts.
Husky has very high resolution encoders that deliver improved state estimation and dead reckoning capabilities. A finely tuned, yet user adjustable controller, offers incredibly smooth motion profiles even at slow speeds (<1cm/s) and with excellent disturbance rejection.
Our team of mobile robot experts can help you select and integrate payloads then configure the robot at the factory. Husky is plug-and-play compatible with our wide range of robot accessories and our system integrators will deliver a fully integrated turn-key robot.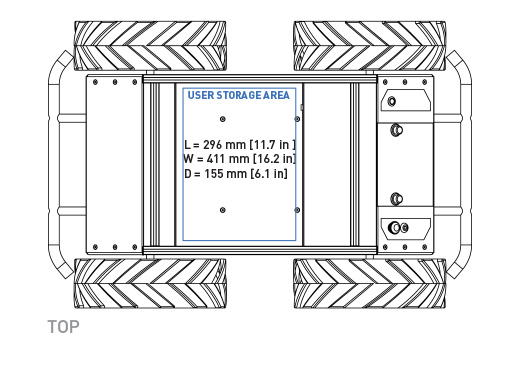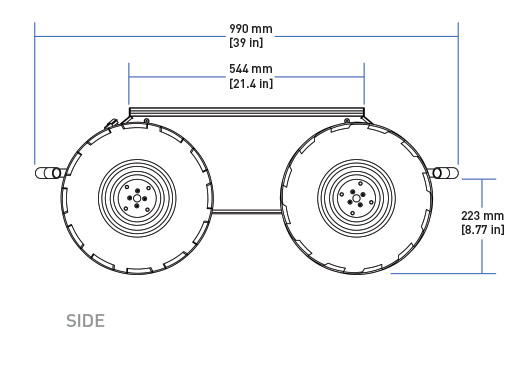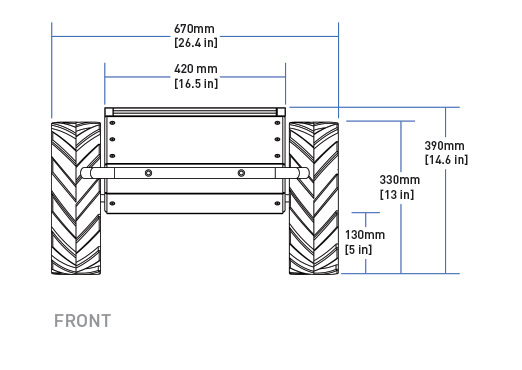 External Dimensions
990 x 670 x 390 mm
(39 x 26.4 x 14.6 in)
Internal Dimensions
296 x 411 x 155 mm
(11.7 x 16.2 x 6.1 in)
Weight
50 kg
(110 lbs)
Max Payload
75 kg
(165 lbs)
Max Speed
Run Time
(Typical Use)
User Power

5V, 12V and 24V fused at 5A each

Drivers and APIs

ROS Melodic, ROS Kinetic, C++ Library, Mathworks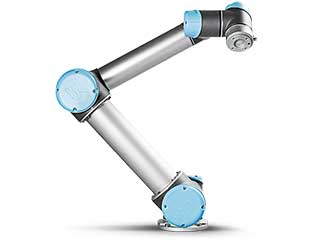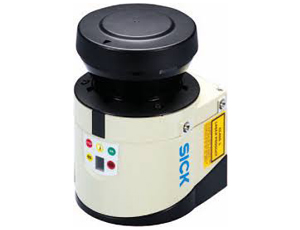 Packages
Starter Package

This Husky package entails basic components. It comes pre-installed with a mini-ITX with Linux and ROS, while the top plate allows for easy mounting of any sensing, manipulation or computer hardware. Simply connect sensors to the onboard computer and Husky-regulated power supplies to get started.

Example Applications

Included Accessories

Featured Upgrades
Explorer Package

Equipped with a full suite of sensors (laser scanner, GPS and camera), the Husky Explorer package enables basic indoor and outdoor autonomous functionality. A powerful Mini-ITX computer system comes preinstalled with Linux and ROS. All component ROS drivers are installed and preconfigured. Husky Explorer Package accelerates development by eliminating the need to design, manufacture and integrate a system saving you time and money.

Example Applications

INCLUDED ACCESSORIES

FEATURED UPGRADES
Explorer Pro Package

The Explorer Pro Package offers a more advanced version of the Explorer Package. It uses advanced sensors and upgrades to provide a long-range, outdoor autonomous platform. A 50m SICK LMS-151 LIDAR allows long distance terrain quantification and mapping, while a pan-tilt-zoom IP camera permits tele-operation at long distances. This Husky is equipped with a weather resistant upgrade to IP55 allowing outdoor operation and also comes with an upgraded lithium battery pack which doubles the system run-time.

EXAMPLE APPLICATIONS

INCLUDED ACCESSORIES

FEATURED UPGRADES
Mapping Package

The Mapping Package is a top of the line upgrade for large scale 3D mapping and navigation. This Husky has a tightly coupled Novatel Inertial-GNSS navigation system installed with a fiber optic gyro allowing for precise positioning even with intermittent GPS signals. Dual antennas enable high accuracy, GPS based true heading determination, while a Velodyne 32e 3D LIDAR provides detailed perception of the robot's environment. A lithium battery upgrade offers extended run-time.

EXAMPLE APPLICATIONS

INCLUDED ACCESSORIES

FEATURED UPGRADES
Husky Manipulation

Husky will interact with the world around it with a UR5 robot arm from Universal Robots and a 2 Finger 85mm Gripper from Robotiq. The UR5 is mounted to the Husky top plate with a custom electronics enclosure and power supply on the vehicle. The arm can extend up to 0.85m and carry a 5kg payload, and is safe around humans. Both the UR5 and Robotiq gripper are fully supported in ROS and come with packages preinstalled and configured on the platform's Mini ITX computer system.

EXAMPLE APPLICATIONS

INCLUDED ACCESSORIES

FEATURED UPGRADES
Husky Observer

Husky Observer is a fully integrated system that enables robotics developers to accelerate inspection solutions and fast-track their system development. Husky Observer comes with a variety of sensors, allowing users to program points of interest and capture data for offline review. Learn more about Husky Observer.

EXAMPLE APPLICATIONS
Gallery
See our robots work in the most demanding environments with researchers all over the globe.
Unboxing and Getting Started with Husky UGV
Facility Inspection Husky UGV
Fully Loaded & Autonomous Husky UGV