Every four months we welcome another batch of co-op students, and the winter term was certainly an exciting one. In fact, our Marketing Communications department expanded with a co-op student; he was joined by other students spanning supply chain, mechanical hardware design and more! What made their experience at Clearpath stand out from other co-op experiences? Read on to find out!
Lessons from the real world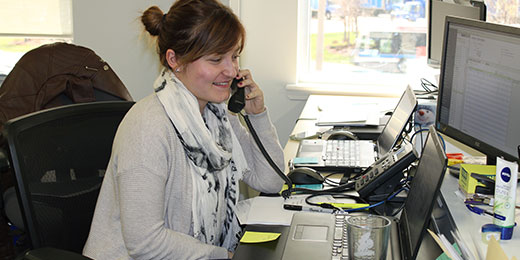 Nina joined us from Wilfrid Laurier University as a Purchasing Materials Specialist – a vital role within Clearpath's supply chain. Nina was responsible for communicating with suppliers to arrange orders, ensure all orders were received on time and to resolve late deliveries. She also assisted with counting production inventory, arranging courier pick-ups and hotels and transportation for her Clearpath co-workers.
"I learned to effectively work and communicate with suppliers and handle multiple on-going issues at once," she said. "Communication skills and problem-solving were key to success in this role, and they were definitely two areas I saw myself improve in."
James, our Marketing Communications Co-op from Conestoga College, was excited to be able to apply his classroom theories to the real world:
"Clearpath gave me the opportunity to apply many of the skills learned in school to real-world applications. I'm leaving with much more confidence in what I can do, and a better understanding of the skills I need to improve on," he said. "I love the trust that Clearpath gives its co-ops to be able to tackle just about any task without the need for micromanagement."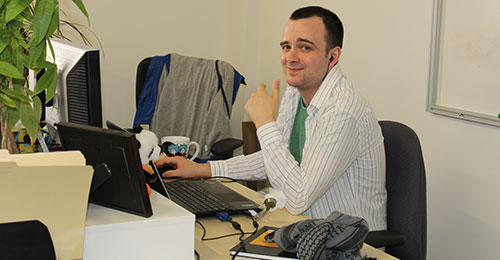 What sets Clearpath apart? James emphasized that the company's culture made a huge difference to his co-op term: "My most memorable experiences had to do with working with the people here. The culture is fantastic!"
Nina agreed, describing co-op outings and Laser Quest as clear highlights to her term.
An experience to be proud of!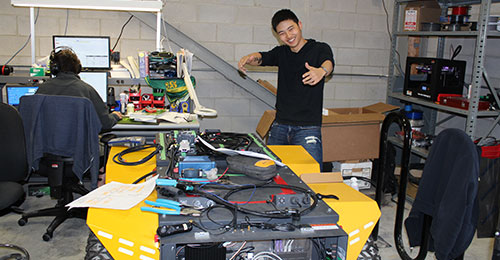 Our philosophy at Clearpath is to trust co-op students with important work – work that could also be given to a full-time employee. Our students rise to the challenge, and surprise themselves with how much they can accomplish in a term!
Jason Park, a student at the University of Waterloo, joined us as a Mechanical Designer. He said, "Clearpath is a great place for an engineer. It's a fast-paced environment with many opportunities to learn."
Jason explained, "there's nothing that beats getting a mechanical system designed, and passing on the assembled product for software testing. It's really something else to see something you built driving around on its own." Another memorable experience was the Hack Week presentation: "watching physical robots shoot each other in a virtual space was pretty cool," he said. He's talking about our 3D video game with robots, of course.
Final thoughts on Clearpath
Clearly it was a busy term at Clearpath, but a couple things made the experience stand distinctly apart for our co-op students. Namely, Clearpath treats its co-op students with the same respect as any other employee; and this philosophy extends from top management all the way down.
Nina said: "Clearpath has a very inclusive and welcoming environment. I appreciated that I wasn't judged for being a co-op student, and my responsibilities and opinions were always valued. The team is also always willing to help when needed; I would truly recommend for every co-op student to work here."
James agreed, by explaining that no matter what he wrote on his resume, "…it would not even begin to convey the experiences" he had while at Clearpath.
Time is flying! Our next hiring season is ramping up and we can't wait to meet the next group of co-ops. If you're considering Clearpath for your next co-op term, be sure to check out the positions here!