WARTHOG
UNMANNED GROUND VEHICLE
Warthog is a large all-terrain unmanned ground vehicle capable of brief periods of locomotion in water. It can handle tough environments with its rugged build, low ground pressure, and traction tires, which allow effortless mobility through soft soils, vegetation, thick muds, and steep grades.
Payload mounting plates and accessible power and communication ports allow Warthog to be easily customized with sensors, manipulators and other payloads to accommodate a wide variety of robotics applications in mining, agriculture and environmental monitoring.
Warthog is engineered to go where no other UGV can. Its rugged, lightweight steel and aluminum build gives it low ground pressure and traction to tackle all types of difficult terrains including steep grades and soft soils.
Warthog's onboard PC comes with the open-source Robot Operating System (ROS) preinstalled and configured. Rich documentation, demos and tutorials are provided, along with a 3D simulation model for Gazebo to help you get started quickly and hassle-free.
When research changes, so should your hardware. Integrate third-party sensors and manipulators quickly and easily with flexible payload mounting, easy to access power and reconfigurable I/O (Ethernet, USB, WIFI, etc). Mobile robot prototyping has never been faster or easier.
Warthog's powerful drivetrain is capable of moving 272 kg of payload and can reach speeds up to 18 km/hr on land. The optional trailer hitch provides ample force for towing massive payloads and industry-standard implements with ease.
Warthog comes with a 100 Ah, 48V Sealed AGM Lead Acid battery pack, which can easily be upgraded to a Lithium-ion pack allowing for up to 8 hrs of run time. Inboard 5V, 12V, 24V and 48V, independently fused user power sources can easily supply large power-hungry payloads like manipulators and agricultural implements for hours.
Size and Weight
Dimensions
1.52 x 1.38 x 0.83 m
(4.9 x 4.5 x 2.72 ft )
Base Weight (includes battery pack)
280 kg (620 lbs)
Gross Vehicle Weight
590 kg (1300 lbs)
Max Payload
272 kg (600 lbs)
Ground Clearance
254 mm (10 in)
Speed and Performance
Max Speed
18 km/h (11 mph)
Nominal Runtime
Lead acid option: 2.5 hrs
Li-ion option: 3 hrs
User Power
5 V, 12 V Fused (24 V, 48 V optional)
Drivers and APIs
ROS Melodic, ROS Kinetic,
Matlab API available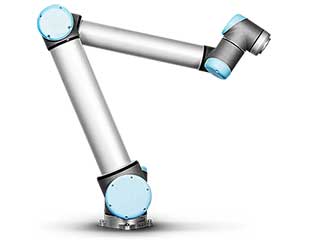 Media
See the Warthog UGV in action.
Warthog UGV & Tele-operation Package
Gallery
See our robots work in the most demanding environments with researchers all over the globe.