Heron
UNMANNED SURFACE Vessel
Heron is a portable, mid-sized surface vessel. The catamaran design includes anti-fouling thrusters, an incredibly shallow profile, and built in GPS for easy access positioning data. This unmanned surface vessel features a payload bay for mounting submerged sensors or equipment on deck. Heron's folding pontoons and quick swappable battery make transport, launch and retrieval a quick and easy process.
Get started faster. Build upon a thriving developer community. Use our comprehensive library of free sample code to shave months off your development, then benchmark your research against a growing community of Heron users.
FLEXIBILITY BETWEEN PROJECTS
Get your research underway in a fraction of the time with easily interchangeable payloads for each new project.
Access all raw variables to ensure no part of your research suffers due to proprietary "black box" designs.
We support multiple languages so you don't have to.
The Heron provides a payload bay for submerged sensors, and a generous mounting system for those above water.
Herons are quiet and maneuverable. Enhancing the standard payload configuration with improved sensing capabilities and deploying several units lets you extend your presence over the water.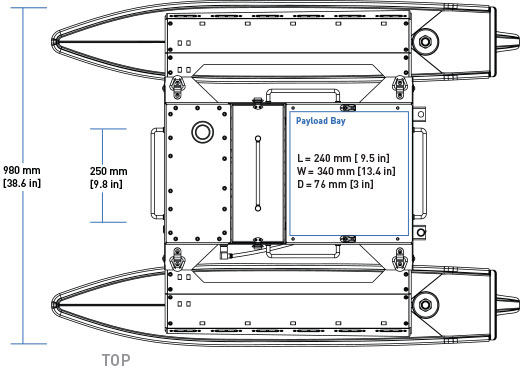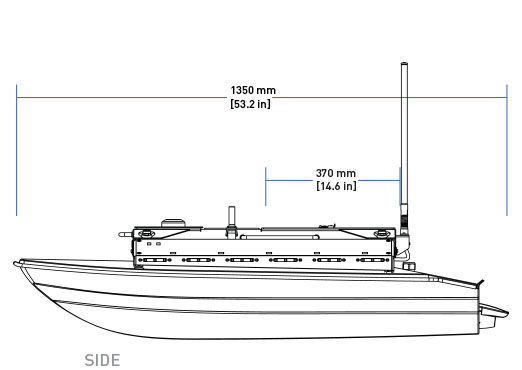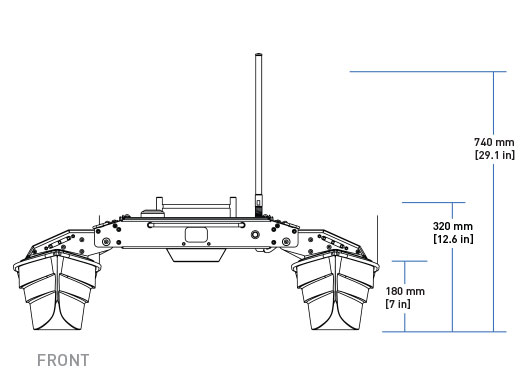 Dimensions Deployed
1.35 x 0.98 x 0.32 m
(51.2 x 38.6 x 13 in)
Dimensions Stored
1.35 x 0.56 x 0.32 m
(53.2 x 22 x 13 in)
Weight
28 kg
(62 lbs)
Draught
120 mm
(4.7 in)
| | |
| --- | --- |
| Max Speed | |
| Max Payload | |
| Drivers and APIs | |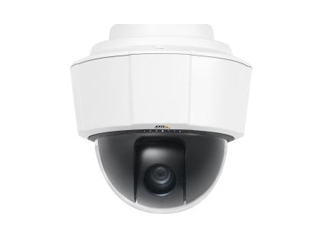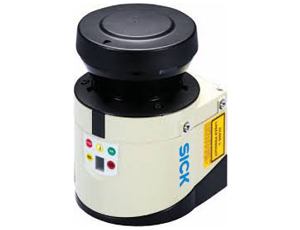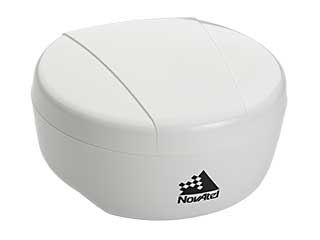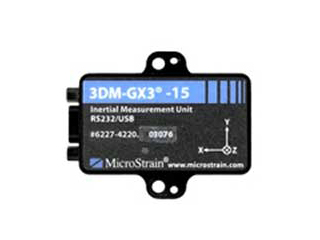 Packages
The preconfigured packages offer everything needed to get started quickly. Don't see what you're looking for? Visit our full Accessories List.
HERON BASIC

The Heron Basic Package has everything you need to get started with with research in aquatic environments. The platform provides access to communication ports as well as onboard power supplies. A powerful embedded computer system comes pre-installed with Linux and ROS; all component ROS drivers are installed and pre-configured.

Example Applications

Included Accessories

Featured Upgrades
Heron Exploration

Equipped with a full suite of weatherproof sensors, the Heron Exploration Package is designed to navigate shallow water bodies. Applications range from GPS waypoint missions, bathymetric surveys, and environmental monitoring. A powerful Embedded Atom Computer comes pre-installed with Linux and ROS; all component ROS drivers are installed and pre-configured.

Example Applications

INCLUDED ACCESSORIES

FEATURED UPGRADES
Gallery
See our robots work in the most demanding environments by researchers all over the globe.