If there's one thing that Clearpath loves (other than robots, of course), it's doing what we can to give back to the community. That's why we can't help but to brag about Philip Perivolaris, an engineering-professor-turned-robot-hardware-wizard at Clearpath. Not only does he work on our robots all day long, but for the past eight years he's been mentoring students in grades 9-12 on a Toronto-based FIRST Robotics team. He and his dad have taken the team from one of the bottom two teams in regionals to the finals; better yet, he's seen his mentees gain scholarships to some top university engineering programs.
How Philip FIRST got involved
For those unfamiliar with the world of FIRST Robotics, FIRST is a volunteer-run organization that inspires young students to become interested in technology and engineering by holding robotics competitions at various levels. There's a challenge released in early January (for example, a robot has to play basketball), and the team has to build a solution in six weeks to compete in autonomous and remote-controlled rounds.
Although he never experienced FIRST robotics as a high school student, electronics had been a hobby of Philip's since he was 10 years old – he's been modifying electro-mechanical assemblies (including his dad's favourite VCR) since he was 8. It's needless to say that when his father (a high school teacher and architect) moved to a new school and took over the team there, he could relate to their interest in learning some pretty challenging stuff, like industry-rated PLCs that even university students don't see.
From the bottom two to regionals and beyond!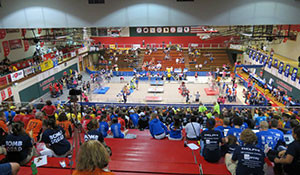 FIRST is primarily about learning, but students face an incredibly competitive environment with some schools charging as much as $1,500 per student just to join the team. Once on the team, students often have limited resources, but Philip says that's one of the reasons why he enjoys going coaching them, "these students know how to figure stuff out with what they have, and they try to make the most of it – they're true innovators!"
When Philip and his dad first started mentoring the group eight years ago, they inherited a team that primarily used wood to build the robots. Now, students design their own sheet metal chassis, appliances and manipulators. One summer, Philip found an old CNC router that the team refurbished so they were able to cut the metal, rivet it together and construct the robot completely.
Where do students go next? According to Philip, many kids enter the program saying "I don't know what I'm doing with my life, maybe I'll be a plumber or carpenter," and then realize they enjoy doing CAD, or math and electrical. More than just getting to the finals, the program becomes about their entire future. Students go from not knowing or considering engineering or technology as an option for them, to winning scholarships to top engineering programs at Canadian universities.
This is the kind of story that gets Clearpath excited about the future of robotics, and the next generation of people who will be building them – well done Philip!. To find out more about how Clearpath supports employee community service, visit our company page.